Knowing who your customer is today, is only half the job. Understanding when, where and how to connect with them is crucial.
We create, produce and deliver promotional and marketing communications across every channel. From an email marketing campaign or a text via SMS, to a personalised promotion or loyalty program delivered in the post. We craft each touch point to be delivered at the right time, via the right channels, to the right audience.
While some companies specialise in either print, digital, or merchandise – we specialise in all of the above. More often than not it's the combination of all channels or tactics across the customer experience lifecycle that yields the best results.
You would be amazed at the cut-through results merchandise is achieving today. So, the question you may be asking is:
Do I need merchandise like branded pens, tote bags, lanyards or t-shirts?
Of course, you do!
In fact, almost every business does and that's why we're so excited to launch our new VooDu Online Shop, making it easier than ever for you to order the branded promotional items you need most.
Our online shop features a great range of some of our most frequently requested Print, Signage, Apparel and Merchandise items, now available for you to browse and shop anytime at your leisure.
The online ordering process is super easy! Simply select the item you want, upload your logo/artwork for branding and we'll take care of all the rest while you sit back and wait for your delivery.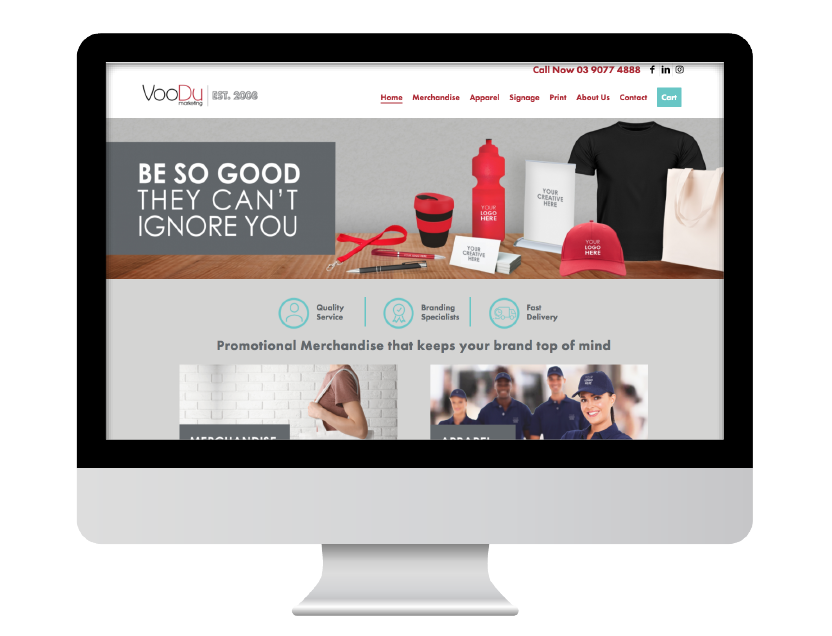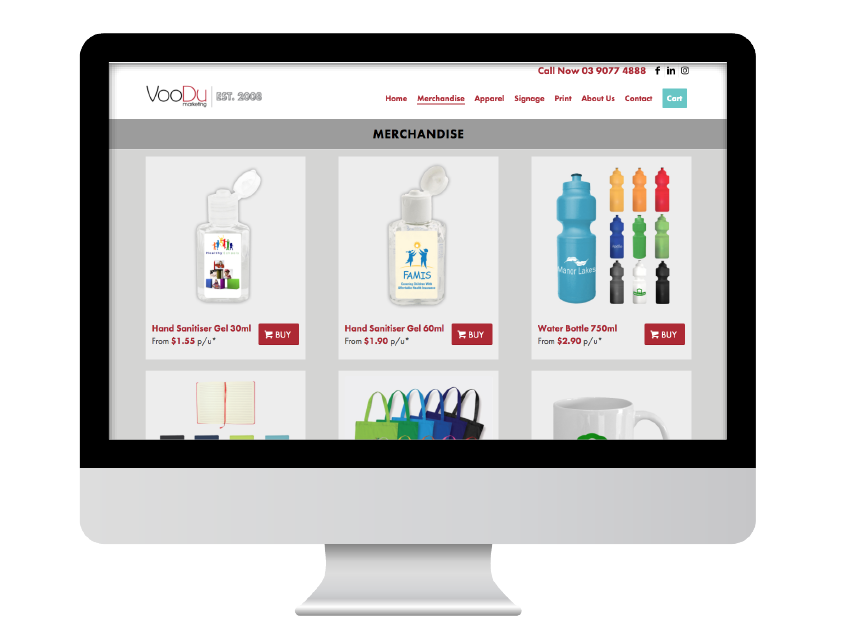 Step 1
Select your product and the quantity you need.
Step 2
Check out the product's branding template to ensure you are supplying your logo/artwork in the correct format for the product and branding method used. The branding templates will tell you everything you need to know to ensure your artwork is set up correctly.
Step 3
Once you have your artwork in 'print-ready' form, upload the file. If you are purchasing multiple items, you will need to upload your logo file for each type of product chosen as artwork specifications can vary from product to product.
Step 4
Confirm your billing and delivery information and complete your payment. Payment is made through PayPal but you don't need to have a PayPal Account, you can use a credit card or debit card.
Step 5
You will then receive an email letting you know that your order has been received. If there are any issues with your artwork file or product availability, a member of the VooDu team will contact you.
Step 6
A mockup of your branded product will be emailed to you for approval before anything is printed. This will give you a chance to see how the finished product will look with your logo/artwork.
Step 7
Once you have approved the artwork/mockup, all you'll then need to do it sit back and wait for your goods to arrive. We'll send you an email to let you know when your order is on its way.
So, what are you waiting for?
Bonus Tip
Can't see the products you're after? If you're looking for something a little different, check out our merchandise catalogue for inspiration. Here you can browse literally 1000's of products, explore all the different ways you can brand them with your logo or message and request a quote in just a few simple clicks.