As a business owner, you're probably already wearing many hats. That sometimes means that important things like your marketing strategy & execution slip down the priority list. Most simply do not have the dedicated time, budget, expertise or resources to implement a multichannel marketing strategy.
Ad planning, strategy development, content creation, market research, SEO, social media are just a few of the marketing disciplines that make up modern marketing today. The marketing domain is constantly evolving and keeping up with "what's working", current trends and best-practices is an almost impossible ask for a business owner or marketing manager.
There has to be a better way
If you are still with me, you are likely struggling to execute your marketing strategy and you need to invest in a team. It's time for some big decisions to be made, that will directly impact the growth the growth of the business. Let's take a look at the various options available to those wanting to take their marketing to the next level, and the associated pro's / con's. Engaging the right model will not only sort your marketing out, but also make your life as a business owner or senior marketing director easier too.
What are a Marketing Team's must haves?
There are so many different elements that go into a developing and implementing a multi-channel marketing strategy. It's important for every business to have a dedicated team that understands every nuance & interdependency of the program. Most businesses will require many, if not all of these skills: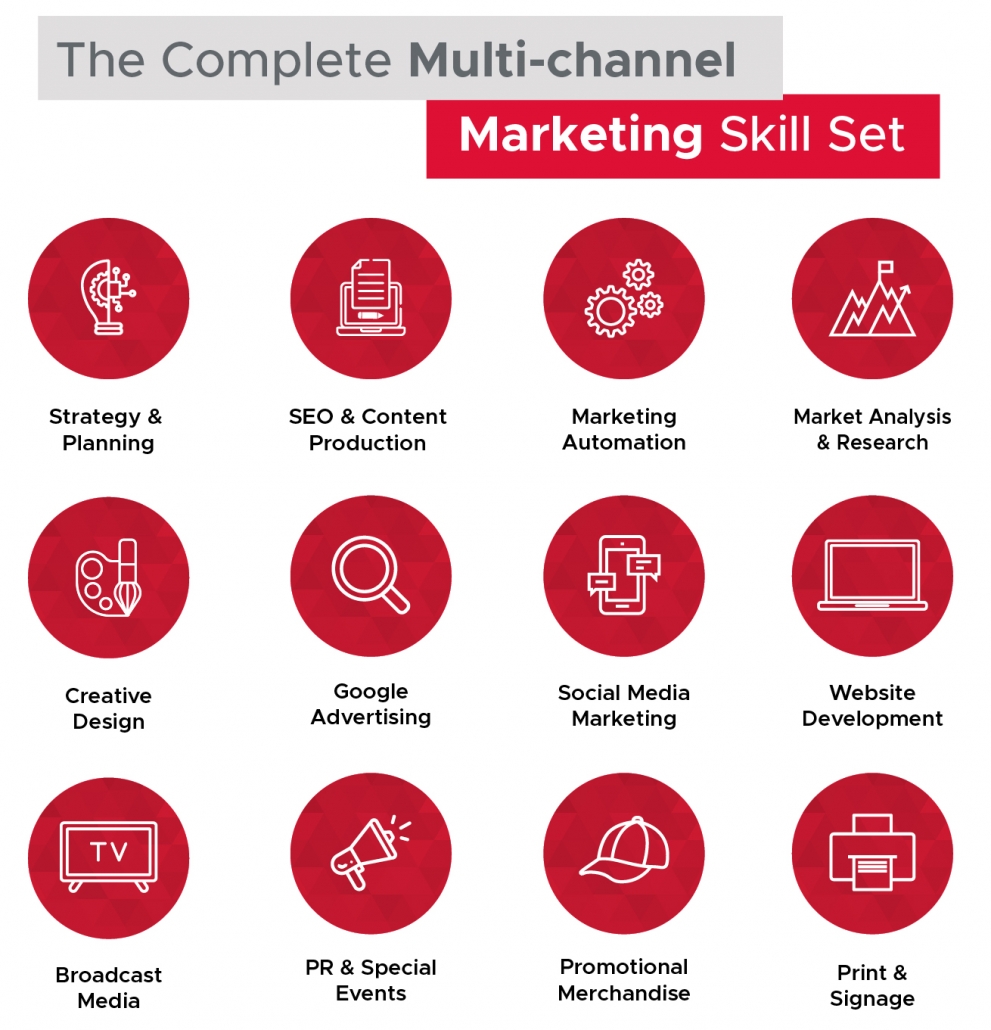 Hiring Internal Staff vs Hiring a Marketing Agency
When sourcing a marketing team, one option is to go out and commit to a whole bunch of internal new hires. While this approach can help with maintaining perceived control & team building, it's not all plain sailing. Attracting the right qualified talent, compromised independent thinking, & narrow skill sets, are drawbacks to consider. The greatest misnomer is that an in-house team will be more cost-effective than engaging a specialist Multichannel Marketing Agency. The numbers simply don't support this. Let's compare the cost (and effort!) of hiring an in-house marketing team vs hiring a Multichannel Marketing Agency.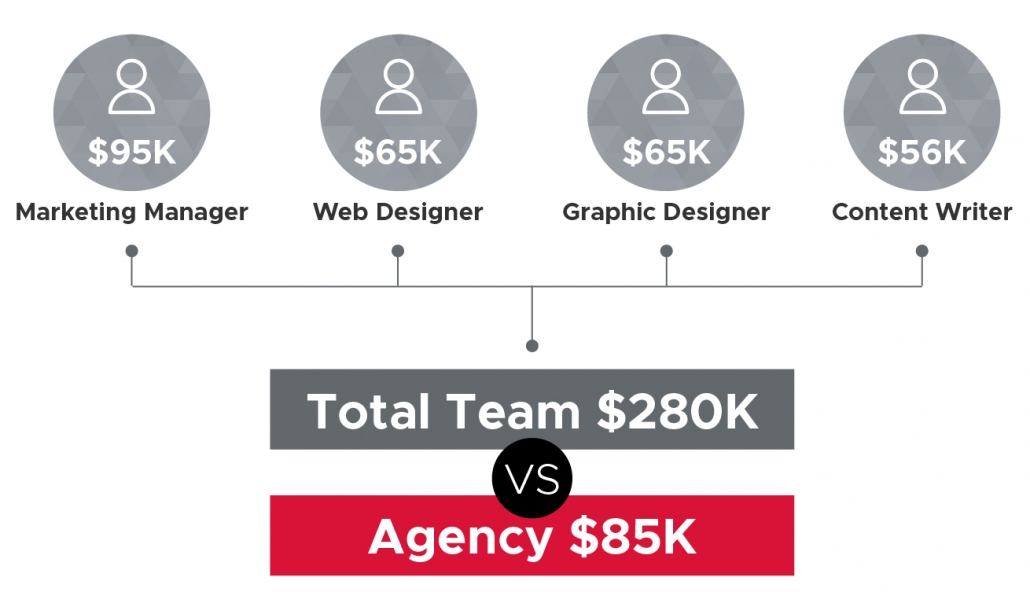 However, you might be thinking your business doesn't have the need for a whole Marketing Team. Perhaps its just a well-qualified Marketing Manager can take care of things. At first glance, this may seem like a more cost-effective way to get the job done, upon further exploration we can see that this is not always the case.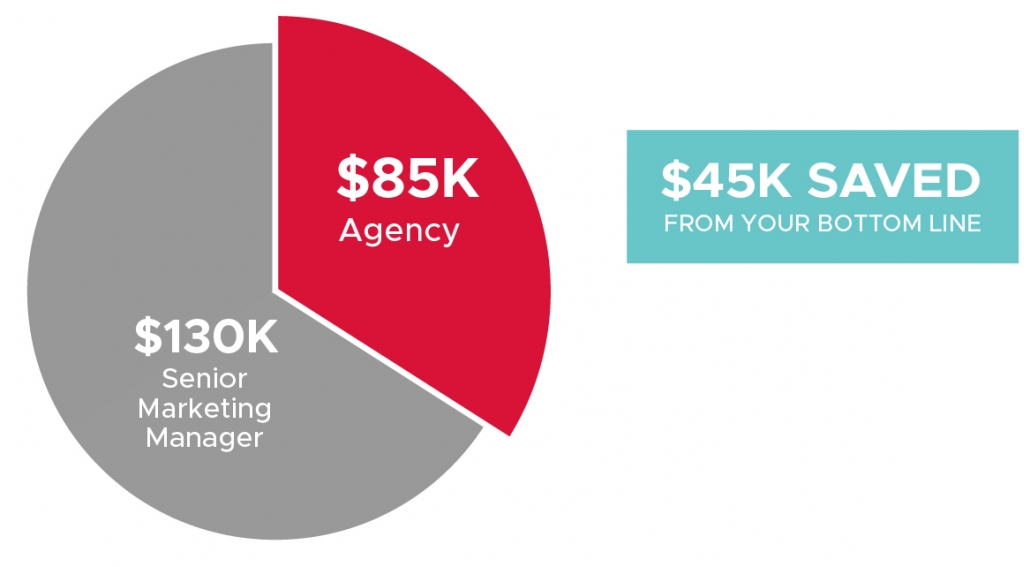 Is one single person is going to be able to handle all the marketing specialties needed to be effective? Highly unlikely, remember the long list above. Do keep in mind that a Marketing Manager will then need to hire Multichannel Marketing Agency to help them execute the strategy.
Why enlist the help of a specialist Multichannel Marketing Agency?
In contrast to in-house marketing staff, a specialist, a Multichannel Marketing Agency partner can bring benefits to your business in ways that an in-house team simply cannot. We've already determined that hiring a Multichannel Marketing Agency can be a much more cost-effective solution than in-house staff but what about the other benefits?
These benefits can include:

Access to Domain Experts & Skill Diversification from Day 1
The right Multichannel Marketing Agency is fluent in the best practices of all areas of marketing, bringing a higher and more current level of knowledge and expertise to the table.

Speed to Market
Working with the right Multichannel Marketing Agency means you will be able to execute your plan faster and avoid costly mistakes. You'll never waste time getting new people up to speed and you'll always have the best people on the job.

More Bang for Buck & Eliminate Risk
The right Multichannel Marketing Agency will not only give you a more diverse skill set but they also have access to industry-leading tools and software that smaller in-house teams generally cannot afford. Best part – only pay for what you need, when you need it.

Broader Industry Perspective
The right Multichannel Marketing Agency will have broader reach & experience of working with other companies in your industry. Bringing an expanded industry lens and best practices to the table is priceless.

Transferable Experience from other Industries
The right Multichannel Marketing Agency will have experience working across multiple industries & reduce the likely hood of boring "copycat" industry marketing. That is – "Everybody in our industry has done it this way forever". There are lots of cross-industry transferable and innovative strategies that can be used to shake things up and make your brand stand out.

Measurement & Accountability
The right Multichannel Marketing Agency will ensure that all initiatives are objective driven, performance based & measurable.
Some things to consider when choosing an agency to work with might include:
Do they specialise in Multichannel Marketing?
Do they have a strong digital presence?
Do they practice what they preach?
Are they transparent in their fee structure?
Goal-oriented, results driven
Reviews and Testimonials
Their scope of services – do they specialise in areas relevant to your business?
Can they integrate time-tested traditional marketing with digital, direct, and relationship marketing supported by ad-tech and CRM/Marketing automation.
How to Get Started?
As a Business Owner or Marketing Manager, you have a lot to do. Deals to close, customers to serve, products to build and staff to manage… the list goes on. Still, your marketing needs to work as hard as the rest of your team.
Using leading edge design and technology, VooDu Marketing is a full-service Agency that has been meeting the integrated marketing needs of our clients since 2008. We have helped hundreds of business owners, entrepreneurs and marketing managers achieve outstanding returns via coordinated multichannel marketing programs.

So, what are you waiting for?
If you're ready to hit the ground running with a super-charged team of multi-channel marketing specialists, complete the form below to book a FREE CONSULTATION.