Trade shows and industry networking events can be an excellent way to grow your business, gain exposure and meet prospective clients. But in a venue crawling with glitzy, gimmicky competitors, it can be easy to get lost in the crowd.
Standing out at a trade show doesn't only mean grabbing the attention of your prospects – it also means getting them to remember you and your brand long after the show is over.
As the old saying goes, "You only have one chance to make a first impression", and that's why how your stand looks, how your staff communicate and how the attendees are being treated is of utmost importance.
Here are 6 of our best tips to help you cut through all the noise and set your brand apart from the pack at your next trade show.
1. Start building hype before the event
One of the biggest mistakes a business can make when exhibiting at a trade show is not properly utilising the lead-up time to create awareness and hype in advance. Industry stats tell us that most attendees will arrive at the expo with 75%* of the exhibitors they'd like to visit already chosen, so the promotion of your upcoming appearance should start well before the day of the event. Take the time to build a multi-channel awareness campaign that will let your prospective customers know where to find you and what they can expect.
Some easy, cost-effective ways to do this may include:
– Create a 'teaser' email campaign to build excitement and hint at a 'not to be missed' opportunity, only available by visiting your event stand on the day.
– Utilise Social Media with some dedicated posts in the lead-up to the event and to get your unique, event-related hashtags to start building steam.
– Encourage attendees to get involved by enabling people to enter a competition or pre-book an appointment with you ahead of time.
2. Invest in an eye-catching exhibition stand
With so many great exhibition products available on the market today, there's simply no excuse for a boring, uninspired expo display. Even if you don't have the budget for an all-out custom job there are lots of quality pop-up products available that you can customize with your own graphics and brand colours to create an impressive expo kit that you can reuse for future events.
Think about your product or service, your value proposition, and what need your business fulfills for your customers. Then, try to correlate that with a fun, unique theme. Get creative and think outside the box!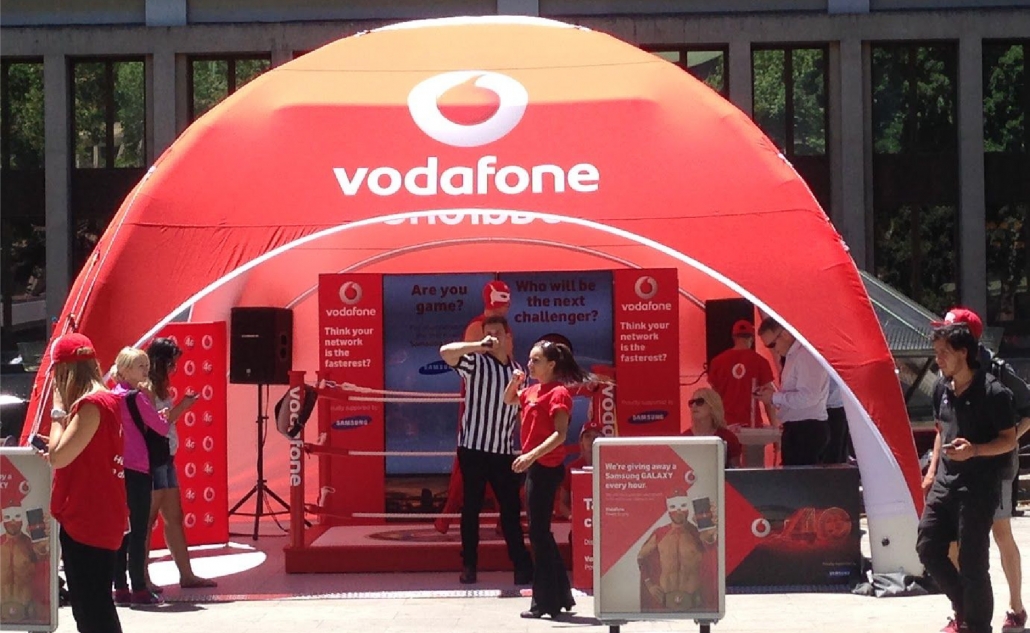 3. The right staff for the job
It should go without saying that the staff manning your expo stand can either make or break the success of your event. Approachable, energetic staff who have a solid understanding of what you are offering and knowledgeable enough on the subject to answer any question that may arise can make all the difference.
Your expo team should also look like a team. Matching uniforms in your company colours will significantly boost brand recognition and help to set the right first impression. Think of your team's uniforms as free ad-space, so create walking billboards for your brand with custom branded gear made especially for the event.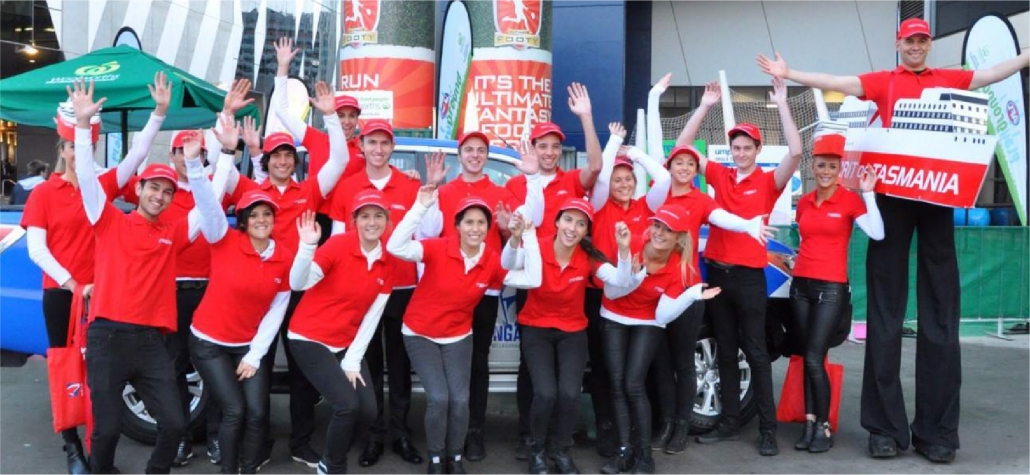 4. Competitions & Giveaways
Competitions and giveaways are a great way to attract more people to your trade show booth, as long as the offering is in line with your brand's message and target audience. Items like pens and tote bags are a classic, but you should also try to get creative and offer something a little more unique and memorable.
How about a reusable Tote bag that is bigger than everyone else's (so that everything gets put into your bag)?
Small, handy items such as screen wipes, USB sticks, stress balls and stylus pens are great expo giveaways which are not only practical, but surprisingly cost effective too. It's a win-win!
What about branded water bottles, lollies or mints? While these items won't last forever, they're extremely effective for bringing people to your stand on event day.
And don't just limit yourself to small items. Consider investing in a great, bigger-ticket item and pair it with a fun and interesting way to win.
The options are literally endless!

5. Create an experience that gets people talking!
Don't just talk to your prospects, get them involved! An experiential event is a fantastic way to create a buzz by immersing people in your brand in a fun and memorable way.
Why not create a game that attendees can play as way of winning a prize?
You could create Insta-worthy selfie frames with a fun backdrop & props.
Or simply demonstrate your product's most impressive features and allow people to get hands-on and join in.
We think Canon absolutely nailed this in the image below when they put on this captivating live performance at the Photokina Expo, giving attendees the opportunity to capture the photo-worthy moment with Canon's newest cameras.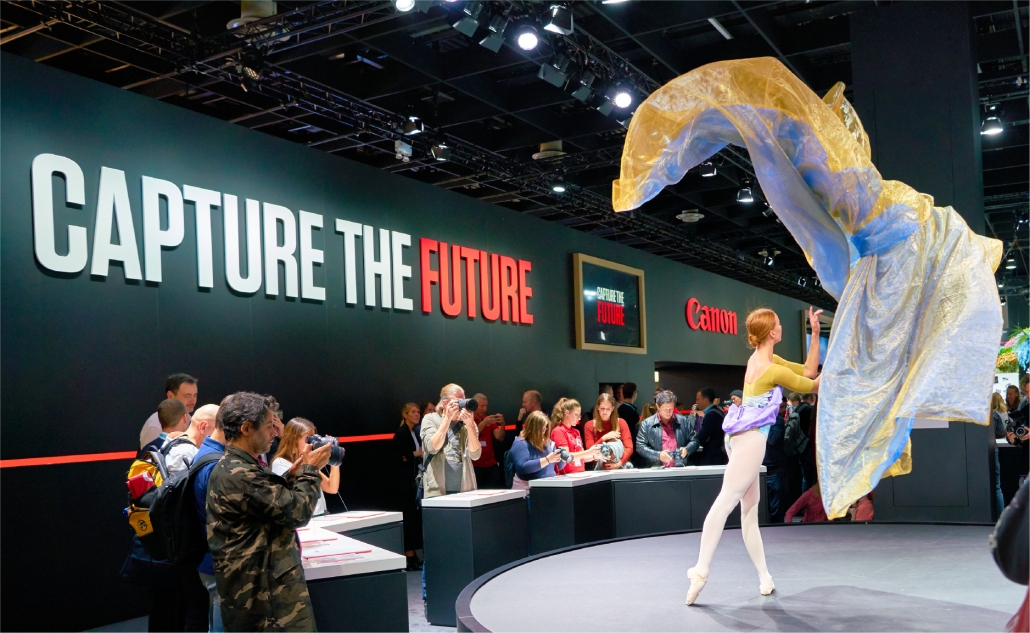 6. Leverage Social Media
Events tend to garner a lot of attention in the social media sphere so it's essential that you're utilizing this throughout the event, not just in the lead-up. With consistent, strategic participation, not only will your booth remain top of mind with attendees, but the added exposure can effectively expand your brand's social reach.
For optimal results create and stick to a strategic social media plan that includes:
– Utilizing event hashtags so your content can be easily found by attendees.
– Engage with attendees and other exhibitor's social content by answering or asking questions, providing assistance, congratulating speakers, or just saying hi.
– Share some candid, behind-the-scenes footage or live stream from the event.
– Consistently let people know where they can find your booth and highlight any special components like games, giveaways or other things attendees can expect when they stop by.
Of course, there's no perfect formula to guarantee trade show success, but follow these 6 key tips and you'll be well on your way to make a winning impression at your next trade show.
If you need help with how to maximise your brand's exposure at your next industry event,
contact us today on 9077 4888 for a consultation.
https://voodumarketing.com.au/wp-content/uploads/2020/04/Banner-Image-.jpg
734
1876
VooDu Marketing Creative Team
https://voodumarketing.com.au/wp-content/uploads/2019/12/VooDu_Horizontal-Blackv2.png
VooDu Marketing Creative Team
2020-04-02 14:05:30
2020-05-05 17:05:54
How to Maximise your Brand's Exposure at Trade Shows & Events